Client Profile
Posted on May 6, 2015
ZeroNet
ASAP, Inc.
Cure PSP
Zeronet
The Problem: ZeroNet originally had a disjointed system where local office and remote users were using a host of different online document management sites for document sharing and retention. This lead to multiple issues with document version management and document sharing. Couple this with users utilizing different versions of Microsoft Office and other applications and the result was multiple versions of the same document and users not being able to use or even able to retrieve data easily.
Our Solution: Kenneally Technology Services' solution consolidated all of the documents into a well-structured file system and delivered standardized applications and security using private cloud technology.
About: Zeronet USA is a full-service commercial energy consulting and retrofitting company serving the mid-Atlantic region, and our mission is to help building owners simultaneously save money, energy, and the environment. We continuously pursue the most effective products, techniques, and technologies to drive building energy and maintenance costs closer to zero. Since our founding, we have performed over 250 commercial and small business energy audits throughout the state of Maryland and beyond, and retained some of the most experienced commercial energy efficiency experts in the region.
Company History: Zeronet USA draws upon its partners' decades of experience in sustainable design and construction. As architects and construction professionals, we have long incorporated sustainable design and construction principles into our commercial and residential commissions. Our vast professional experience in both commercial and fine residential construction enables Zeronet to offer superior energy management consulting and retrofitting services to clients throughout the Mid-Atlantic region.
The company was originally founded in 2008 as Zerodraft Maryland, which remains our residential and multifamily energy division. From its early stages, the firm was asked to help with building envelope studies across the region, but by 2012, the company was increasingly recognized for its special expertise in LED lighting and began taking on an increasing number of commercial and institutional efficiency projects. In 2013, in order to more effectively focus on the needs of its commercial clients, the company decided to launch Zeronet USA as the primary, commercial division of the company.
A full Zeronet whole-building audit typically involves three stages, which can be booked separately or concurrently: i.) an efficient lighting audit, which will calculate the impact of upgrading to high-efficiency modern lighting; ii.) a mechanical efficiency study, which looks at opportunities to save on heating, cooling, and ventilation expenses; and iii.) building envelope studies, which target air leaks and other areas diminishing the durability and efficiency of your structure. Some clients also wish to couple this traditional three-stage energy audit with an on-site renewable energy feasibility study.
Since its founding, Zeronet has emerged as one of the leading locally-owned energy management firms in the region, servicing some of the area's most distinguished facilities. With each passing year, we get closer to our goal of helping building owners achieve cost-effective net-zero energy buildings which help reduce our environmental impact and our dependence on volatile foreign energy sources.
From left to right: ASAP, Inc.'s Cathi Hyde, Natalee Gee, Dr. Reed Morrison and KTS' Dave Thomas
American Substance Abuse Professionals
The Omnibus Transportation Employee Testing Act of 1991 ushered in a new era, creating what became the field of the Drug Free Workplace. It mandated the creation of substance abuse employer policies for testing applicants and employees who held safety-sensitive positions in the transportation industries.
When the Department of Transportation (DOT) launched its implementation of employee testing in 1995, it installed workplace substance abuse policies that included creation of a new professional role, the Substance Abuse Professional (SAP). American Substance Abuse Professionals (ASAP) was born as a response to the DOT initiative.
ASAP traces its roots to 1973 and the start of a breakthrough drug abuse treatment program co-founded in Baltimore, Maryland by ASAP president, Reed Morrison, Ph.D.. The Janus Center for Counseling and Human Development, an innovative expressive therapies-based program, was one of the first intensive outpatient (IOP) treatment centers in the country. Dr. Morrison directed the non-profit program for 10 years before transitioning it to a private sector regional employee assistance program (EAP) in 1984 called Janus Associates and then eventually, American Substance Abuse Professionals. ASAP services were later extended beyond the DOT market to include companies regulated by the Nuclear Regulatory Commission (NRC) and to all employers whose policies called for a drug free workplace.
ASAP focuses entirely upon the needs of the Public Safety client. It helps employers meet their obligations to protect Public Safety by providing a full range of substance abuse risk management services for creating a drug free workplace and fulfilling regulatory compliance responsibilities: policy development, Substance Abuse Professionals (SAP) evaluations for DOT clients, Substance Abuse Expert (SAE) evaluations for Nuclear Regulatory Commission (NRC) clients, case management, training and testing.
Kenneally Technology Services (KTS) began working with ASAP in the spring of 2011. KTS' work began by replacing aging data and Active Directory (Windows network architecture) servers with new state-of the-art units that included fault-tolerant redundant hard drives and redundant power supplies. Secure faxing was key to the strict privacy standards that ASAP are required to meet so KTS integrated a system where outbound e-faxing is done from the employee's desktop and inbound faxes are delivered electronically to each user's secure network folder.
Internet security was enhanced by replacing an outdated firewall system with a new professional unit that provides better Internet browsing performance as well as content filtering. And since Internet connectivity is crucial to the operation of ASAP's business, KTS also integrated a redundant Internet connection as a "hands-off" fail-over option in the event their primary connection goes offline.
Members of ASAP's management team often travel to national client accounts for business meetings and client development purposes. Their remote connectivity needs were met by implementing a secure remote access server for the delivery of office productivity applications and data. They now establish encrypted virtual private network (VPN) connections from anywhere in the country and run their office-connected applications and access company data in seconds.
Kenneally Technology Services helped solve the problem of the transfer and delivery of personal and sensitive data to their clients by implementing an "in the cloud" secure website. The website, which utilizes Microsoft's Sharepoint Services, allows their clients to access personal testing data and sensitive personnel documents. In the event secure e-faxing or secure website access is not in the best interest of a specific client, KTS implemented a secure, encrypted file transfer utility that requires secure account names and passwords for delivery of documents.
Dr. Reed Morrison on how ASAP came to use Kenneally Technology Services for your technology support needs:
Our dissatisfaction with our previous service led us to search for a new one. We interviewed Dave Thomas of KTS, along with a few other companies. He was head and shoulders above the crowd and the decision was an easy one.
Dr. Reed Morrison on how Kenneally Technology Services has improved his company's productivity and his employees' ability to better do their jobs:
Improvements have come by way of professionalism, good communication, excellent follow-up and trusted personnel. It is a pleasure to work with a company that shares our own values. We have less IT related down-time, better server and application performance and a more efficient system for detecting, reporting and resolving problems. We are finally able to establish proactive IT policies and planning. We are very satisfied with our KTS experience and recommend them highly.
Kenneally Technology Services is a value-added service for the clients of J. L. Kenneally and Company. We provide our technology services with the same structure and procedure as we do with our accounting practice. A no-nonsense approach to one of your most important business assets—your computer system and its data.
If you would like to schedule a meeting or a review of your technology, please contact Dave Thomas, Director of Technology Services, at 443.829.9897 or dthomas@jlktech.com.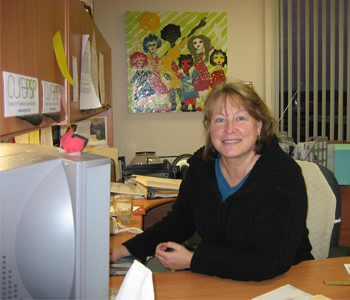 Jackie Allison, VP, Administration & Finance COO & CFO
CurePSP:
(Progressive Supranuclear Palsy) is a fatal, degenerative brain disease that has no known cause, treatment or cure. It causes complete disability by progressively impairing all movement, balance, vision, speech and swallowing. PSP patients may often show alterations of mood and behavior, including depression and progressive dementia. Our mission is to increase awareness of PSP, advance research toward a cure, educate health professionals and provide support, education and hope for persons with PSP and their families.
Jackie Allison on the Private Cloud Computing / Virtual Office technology which has been fully integrated at the CurePSP offices:
I have been involved in technology since the early 1980's when huge computer rooms were a necessity. Progressing to a Private Cloud Computing environment has been a journey that still amazes me. The technology available today would not be believed 30 years ago. Here at CurePSP, our first experience with the concept was not favorable because of the vendor with whom we dealt. Our previous vendor was an application service provider (ASP) which provided a similar technology but in a web based format. It was difficult for these types of vendors to remain viable and subsequently their service and support suffered. Kenneally Technology Services developed the idea of bringing these services in house and creating the virtual office environment in our offices.
We knew that the private cloud setup was the way for us to proceed. Private Cloud Computing allows us to have a central in-house server that holds all of our software with all users using these applications and filing data on a server that is backed up daily religiously. This setup also affords us to have old desktops that essentially act as dumb terminals that access the central server. We have saved thousands of dollars because be have been able to use these desktops for over 5 years now without replacing them. Network support and administration time has been reduced as well since the applications are installed on a centralized server thereby eliminating the necessity of supporting multiple copies of the same application on each end-user desktop.
What Private Cloud Computing has given us is control over our applications, data and most importantly, our technology budget. Backup procedures are in place and all pertinent data is centrally located. This ensures that we don't loose anything. Staff are set up to work remotely from home, which keeps productivity up even during days when the office is closed, such as snow days. Having all data and applications centrally located keeps maintenance succinct and easy. All printing and scanning is easy to control as well. Down time has been close to non-existent.
If you wish to learn more about PSP, please visit their website at www.curepsp.org or email info@curepsp.org