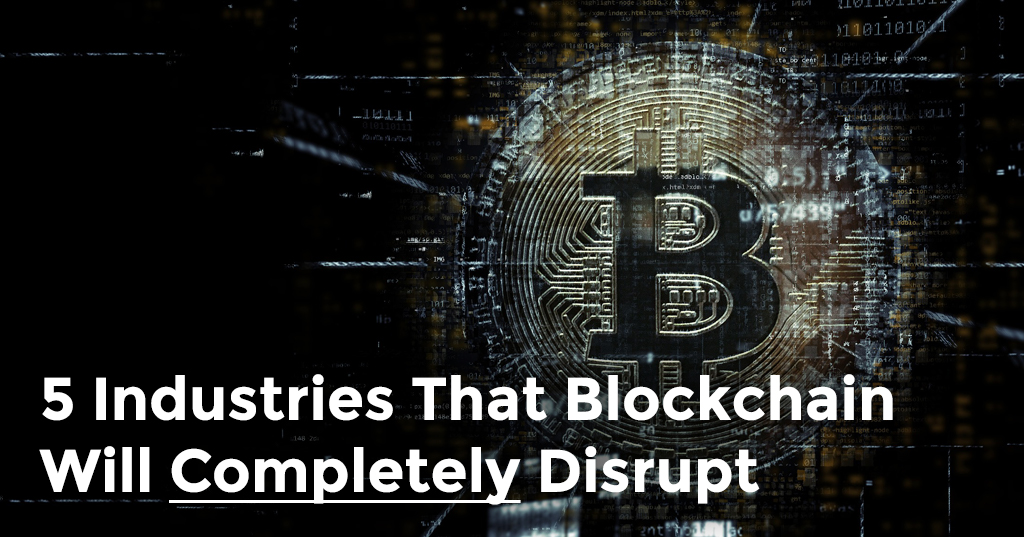 Blockchain-Disrupt-Industries
5 Industries That Blockchain Will Completely Disrupt
Posted on January 16, 2018 in Uncategorized
Bitcoin is all over the news. Seeing as this cryptocurrency surged 150% in value in a single month, a lot of people are now taking a look at blockchain, the technology that allows cryptocurrencies like Bitcoin to exist. While it's a complicated concept, the basic framework is that blockchain eliminates the need for third-party record keeping through its ability to provide a publicly distributed, immutable ledger that ensures accuracy.
While blockchain is clearly making its mark on the financial industry, this new technology is poised to disrupt the way we do business in nearly every field. Here are five industries that will soon see the effects of blockchain:
1. Healthcare
Medical records are some of the most personal and sensitive pieces of information about us. Hospitals often lack the data infrastructure to both securely store these records and share them effectively with necessary providers. Startups and established healthcare companies are working to implement blockchain medical record keeping to ensure integrity and trust in the system.
2. Food Safety
With blockchain, transactions are permanently recorded in a ledger that everyone can access. This means near instantaneous tracking of the supply chain of anything recorded in the blockchain. In the event of an E. coli outbreak, food safety personnel can determine the source of the contamination almost immediately and work to get dangerous food off the shelf that much faster. Not only can that save money, it can potentially save lives.
3. Banking
The reason that Bitcoin has had such success lies in the fact that it has removed the intermediary once needed for financial transactions. With blockchain, banks are no longer necessary for verifying that someone has the money they claim to have. Distributed ledgers will soon come to challenge banks as the sole record keepers of the financial world, opening up the door to new financial tools altogether.
4. Real Estate
Real estate is a multi-trillion dollar industry. However, a lot of that money is tied into the paperwork involved in deeds, records, contracts and plats. While in-person interactions have traditionally handled those types of documents, the ability to put things like title transfer into blockchain will reduce costs dramatically and make fraud much more difficult.
5. Legal
Traditionally, contracts passed back and forth between parties for the purpose of making changes, where others then reviewed and made their own changes. With an immutable record, the once time-intensive process of contract creating, signing and even enforcement can be reduced dramatically, saving time and money. Intellectual property, deed management and public records all stand to see changes with blockchain technology, signaling a bout of disruptions on the horizon for the legal industry.